How to choose a foam roller in Australia?
Posted on
Foam rollers have such a great impact on our bodies that we can literally see them everywhere (the office, your friend's house, the gym, etc).
As simple as foam rollers may seem, choosing the right one for you needs isn't the easiest thing to do. The following guide will help you with everything you need to know in order to buy the ideal foam roller for your needs.
How does Foam Rolling work?
Considered as a form of self-myofascial release (or massage of the fascia), a foam roller uses pressure created by your own bodyweight to target certain body parts and muscles such as your hips, back, legs, arms, etc. This pressure will help release muscle knots which will lead to a significant improvement in your body's overall performance.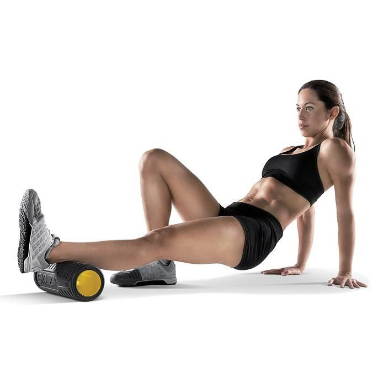 What are the benefits of a foam roller?
Using a foam roller regularly will help you:
Release muscle knots

Prevent injury

Improve mobility/flexibility significantly

Improve tissue health by improving oxygen and blood flow
Break up scar tissue

Reduce inflammation

Increase blood flow

Improve muscle recovery
What should I consider before buying a foam roller?
Now before you take action and actually buy any foam roller, we recommend that you consider the following criteria so you can pick a product adapted to your needs:
Density: Which density suits me best?
In a nutshell, the denser your foam roller is, the harder it will be on your body, but also the more positive effects it will have on your muscle tissue and overall body condition.
It doesn't mean you should go for a roller with an extreme density to get the benefits, but the more advanced you are the more you will want to consider a dense product.
The density of a foam roller mainly depends on the material:
If You Are Beginner At Foam Rolling:

We recommend choosing a low to medium density roller, you can find such density in EVA foam rollers. EVA (Ethylene Vinyl Acetate) foam roller are very lightweight, shock absorbent. EVA is a durable material which makes a great base material for foam rollers (you can find this type of foam rollers in your local gym and yoga class).
EVA foam rollers are not the most efficient foam rollers out there but they're known to go easy on your muscles by offering gentle/light pressure massages and they will help you promote a better blood flow.
We also recommend foam rollers made out of ethylene vinyl acetate (PVA) or Polyethylene (PE).
Some recommended products:
If You Are Intermediate At Foam Rolling:

A higher density roller will suit you more, especially if you're training bigger muscle groups (in other words, the more body weight involved the more density you'll need).
EPP (Expanded Polypropylene Rollers) foam rollers are the most common among intermediate users as they run a bit firmer than EVA rollers and they offer more serious self-massages with a medium to high pressure applied. These types of foam rollers are suitable for both personal and clinical use as they are very efficient in relieving muscle pain, increasing blood flow and improving recovery.
We also recommend foam rollers made out of expanded polypropylene (EPP) or Duplex (high-density EVA).
Some recommended products:
If You Are An Expert At Foam Rolling:

This means you're probably looking for a more challenging massage. If that's the case, we recommend the following materials for your next foam roller: FTR (EVA-PVC mix), TPT (EVA-PVC mix), TPT (EVA-PVC mix). Foam rollers made out of the latter materials will be a lot firmer than regular foam rollers and they'll have harder surfaces with extreme ridges.
These types will offer a deeper muscle tissue massages, relieve serious muscle aches and pain and reduce fatigue and tension effectively.
Some recommended products:
Size: What Size should I go for?
Basically, the longer the foam roller is the more versatile and beginner friendly it is.
Long foam rollers (36 inches/90cm):
These foam rollers are perfect for rolling out your whole back, and they're easier to handle when you're targeting other muscle groups like your hams, quads, etc.
Short foam rollers (24 inches/60cm):
These rollers can easily target small muscle groups like your calves and arms, but they can be a bit challenging for a first starter.
Mini foam rollers (12 inches / 30cm):
The major benefit of these shorter foam rollers is that they are super portable and can easily fit in your gym bag and used in a limited floor space.
You will come across rollers with a diameter of 10-12cm and it's the most convenient one for beginner and intermediate users, some people choose a smaller diameter of 7 to 10cm as they're looking for deeper rolls and more targeted messages.
Foam roller Bumps/ridges:
Texture on foam rollers can take your massaging experience to another level as it will activate deeper muscle tissue depending on the shape, pattern and size of the protrusions on the rolling surface of your foam roller.
Minimum to no bumps/ridges are more suitable for beginner users as well as elder users, yet extreme patterns are more suited for intermediate to professional users who are very familiar with what they're doing.
Generic or Brand foam rollers?
Generic foam rollers are usually cheaper, less durable and they're not suitable for professional use. However, they're a good choice if you're just starting out and getting familiar with foam roller.
If you're already familiar with foam rollers or you are planning to use it regularly or simply if you are looking for durable and superior quality products, chances are branded foam rollers will suit you best.
Advanced Tech-foam rollers:
Top foam roller manufacturers decided to take the foam rolling experience to a whole new level by implementing additional technologies to improve the results even further while still remaining beginner friendly:
Can I wash my foam roller?
Yes, you can use a cloth dampened with mild soap/water mixture to clean your foam roller but DO NOT SUBMERGE/SOAK THE FOAM ROLLER.
Also, do not use bleach/other chemical solutions.
Is there an alternative to foam rollers?
Yes, we know that foam rollers can be difficult to use especially for first timers. If that's the case with you, we recommend buying large massage balls and stick rollers.