How To Choose A Knee Brace?
"What knee brace is right for me?" This is the question we hear the most. The knee is the most complex joint of the human body, and making sure you have the most adapted product for your condition is essential. There are a lot of options available out there: hinged braces or stabilizers, slip-on or wrap-around… being exposed to so many alternatives can be overwhelming and confusing.

The following article will guide you through everything you need to know in order to buy the ideal knee brace for you:
What does a knee brace do?
The basics first! A knee brace is designed to:
Prevent injury
Support the knee (patella, muscles and ligaments) by providing compression, warmth and stabilization
Protect the knee following an injury and prevent further damage
Improve performance
Prevent the knee from over-extending after a surgery or an injury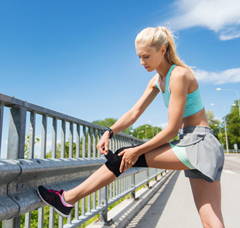 What should I consider before buying a knee brace?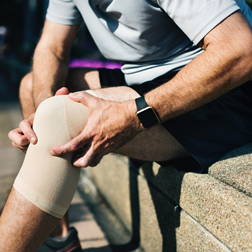 Before you start buying the first available knee brace, you should be able to answer the following questions:
What type of knee brace matches my needs?
What size/style should I get?
What material is better for me?
How long will I be using this knee brace?
How much am I willing to invest?
Answering such questions will help you navigate through the knee braces' market easily and more confidently.
What type of knee braces do I need?
This type provides the highest level of support for your knee, by using hinges to offload your knee joint and keep it in perfect alignment when bending. These work best if you're having a moderate to intense pain and instability in your knee. Postoperative hinged braces can be custom adjusted to limit range of motion and they're very easy to remove and replace for icing and re-examination.
Buy this type if you're:
Going through a post-surgery recovery
Practicing a contact sport (i.e. football)
Experiencing severe ligament injury such as knee strains/sprains
Suffering from patellar tracking or knee instability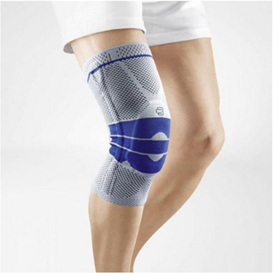 Knee Stabilisers are designed to provide more comfortable protection and support by using dual metal springs on the sides which creates an advanced lateral and medial support along with warmth and compression.
weak/sore muscles and joints
a slight knee instability
an arthritic knee condition
Knee supports don't offer strong support like hinged and stabilizer braces, however, they do offer an overall support which allows you to have a flexible range of motion in addition to compression and warmth perfect for nearly-recovered injuries and little niggles! They also help you "feel" your knee, which makes you more aware of how your knee behaves.
Buy this type if you're:
Using it for everyday activities like walking/running
Going through the later stages of recovery from cartilage or knee ligament injuries from mild arthritis
Experiencing mild patella tendonitis
Unlike other knee brace types, a knee sleeve is mainly used to prevent an injury rather than to recover from one. It provides the least amount of support but a good amount of compression to keep your knee stable during intense activities. A sleeve is worn by sliding it over to your knee and it's sometimes equipped with a knee pad for extra protection.
Buy this type if you're:
Suffering from light knee pain
Looking to prevent progressive tendonitis
Recovering from inflamed tendons injury
Looking to promote better blood flow
Looking to reduce direct strain on the knees during intense workout, jogging or hiking activities
Knee straps offer compression to the tendons around your knee and are designed to distribute any tension applied on it during different kinds of movements (running, hiking, weight lifting, etc.)

Buy this type if you're:
Looking to relieve regular knee pain/swelling
Suffering from IT band syndrome
Suffering from patellofemoral pain syndrome (runner's knee)
Suffering from patellar tendonitis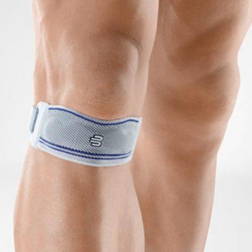 Knee protectors are designed solely to protect and prevent your knee from severe injuries; they offer a good range of motion with a great deal of protection to your knee cap through a protective pad/cushion securely strapped around your knee.
Knee protectors are commonly worn during contact sports but they're also used in other types of activities where the knee is exposed to dangerous situations (i.e. like falling of a motorcycle).
Buy this type if you're:
Practicing a contact sport or a sport that involves falling on your knees a lot.
Doing activities that involve crashing or falling.
What size should I go for?
Choosing the right size is essential; you want a feel of compression (tightness) in your knee in order to get the most out of your knee support.
However, if it feels uncomfortably tight you should loosen up the straps or consider buying a bigger size.
We recommend checking the sizing chart and info provided with each knee brace before buying (this requires taking extra sizing measurement on your knee, thigh and calve).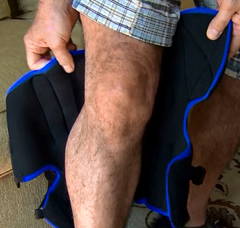 Do I need a branded or a generic knee braces?
This really comes down to your personal needs and preferences. Branded names developed their products over years of experimenting, so they're known for providing quality, durability and effectiveness. Hence, branded names are often recommended by professionals.

On the other hand, some people choose generic knee braces for their relatively lower price and the fact that they're only going to wear it for a short period of time.

The more complex the injury, the more you should look into reliable brands and products that will provide you with more comprehensive support.
What brace style should I get?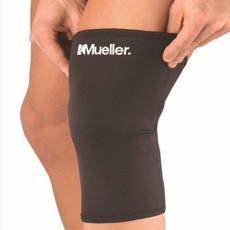 This style is worn by passing your foot through the opening and pulling the brace up to your knee. Slip on knee braces are delicate when it comes to sizing, so make sure you get the right size to ensure optimum support.
This style is the easiest to wear and remove; it also offers more control on the tightness of the brace which means that the fit isn't your biggest concern here. The big advantage of this style is that it's injury friendly especially if you're suffering from a swollen knee or having a bad wound, wrap-around items will save you a lot of unnecessary pain.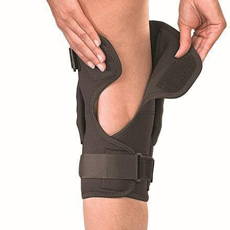 Knee brace fabric materials:
Bamboo charcoal fabric:
Anti-microbial/antibacterial
Moderate compression
Sensitive skin friendly
Extra absorbent
Spandex fabric (lycra):
Great compression
Stretchy
Breathable
Lightweight
May cause allergies to some
Copper-infused fabric:
Anti-Odour (anti-microbial)
Anti-itch
Moister wicking
Non-slip fabric
Neoprene fabric:
Flexible
Breathable
Comfortable
Might become too worn if the fabric is too thick
Should I buy in a pharmacy or a specialised store?
Pharmacies are limited when it comes to brand options but their products are reliable. On the other hand, specialised stores offer more options, have more sizes available and often a larger range of advanced products. It's up to you to pick the most suitable product for your needs, so make sure you focus on that.
Choose an open patella knee brace if you're looking to relieve stress off of your knee cap, otherwise a closed patella will do the work.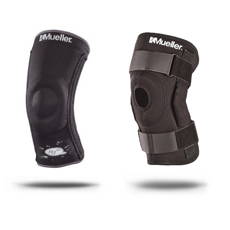 How tight should a knee brace be?
A knee brace should be fairly tight to allow compression and promote blood circulation but it should not be uncomfortably tight.
Can I wash my knee brace?
Most knee braces come with clear instructions on how to look after them. Normally, they are manually washed with mild soap and warm water (hinges must be removed and all straps/fasteners must be closed before washing) and it must be air dried later.
Our knee Braces collection:
At Back To Sport we offer a large collection of knee braces that suits most of your needs.
We have chosen to work with the best brands in the industry and offer you access to high quality products you can trust.
We know how critical sizing can be, which is why we stock all sizes and we offer a 30 day exchange policy on all braces to give you a chance to try them out.
We also offer express shipping on all our orders.
Disclaimer:
The information contained in this article is for general information purposes only. The indications provided are not a prescription and cannot substitute the recommendation of a health practitioner. We recommend that you seek the advice of your GP, physiotherapist or health practitioner before buying any item on Back to Sport. 
---